*
Mitochondrial DNA
In the mitochondria of the body cells of all living things there is a relatively small amount of DNA. This comes from the female egg cell. It is thus passed on by the mother to sons and daughters, but only daughters pass it on, the sons do not. This Mt-DNA is determined in our family member E.C.W.L. Boed Marres.
De opgaande lijn gaat van zijn moeder langs de families: Franquinet, Tielens, Corten, Becker, Geurts, Meyers en zo tot de oudste bekende voormoeder Maria Catharina Peussens, die geboren is omstreeks 1730 en waarschijnlijk te Maastricht, maar wellicht ook in het heuvelland buiten Maastricht.
Mt DNA is also divided into haplogroups by analogy with the Y-DNA, although they are biochemically rather different. It has been tested at Full Genomes, at National Geographic in the GENO2 beta project, and at 23andMe. Genografic gives as result: haplogroup N1a'd'e'l. The companies 23andMe and FTDNA appoint him differently as: 1a1. These seem to have different results, but this are only other codes.
Mt-DNA haplogroup I1a1 is most common in Germany and Switzerland, in Eastern Europe such as the Czech Republic, Poland, Estonia, in the Balkans in Slovenia, Bosnia, Macedonia, and Croatia, also many in Lebanon and in Ukraine.
Here are two MT-DNA pedigrees that are both slightly different.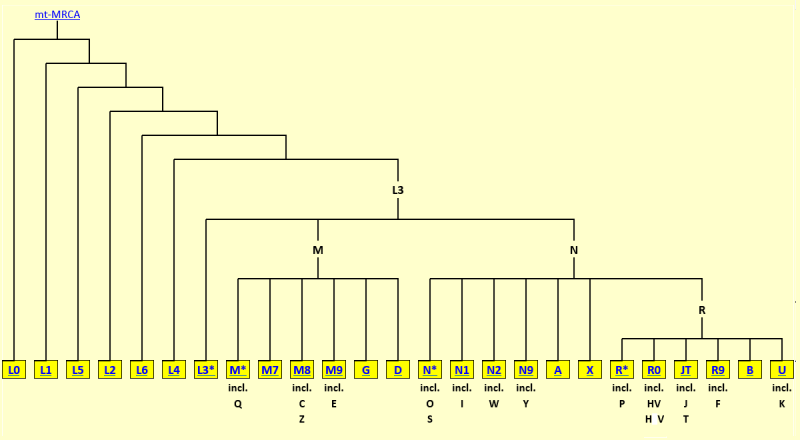 Mt DNA trees
*
AUTOSOMAAL DNA
Autosomal DNA is a term used in genetic genealogy to describe DNA which is inherited from the autosomal chromosomes. An autosome is any of the numbered chromosomes, as opposed to the sex chromosomes. Humans have 22 pairs of autosomes and one pair of sex chromosomes (the X chromosome and the Y chromosome). With a number of companies I have this determined on ethnic components. The results do not differ much from each other and can be found in the notes. (5)
Here the result of
FTDNA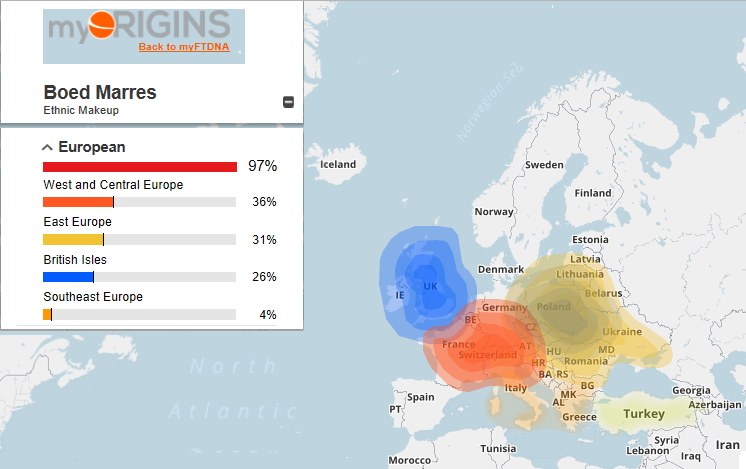 This picture gives an interpretation of my Family finder test. But unfortunately, in the first 8 generations of my pedigree, not one ancestor comes from Great Britain and from East Europe. There are also increasing gaps in my pedigree, but there is no indication to suggest that these nationalities have existed in older generations.
And yet this is a picture that makes you think. The test is done well, the results are correct, but the interpretation may have to be different. The genome particles are probably much older than assumed. And the causal relationship is very likely to be different.
In the first millennium of our era and perhaps even before that, many residents of what are now the Netherlands, Belgium, Westphalia and Saxony went to Great Britain. Many family members stayed behind. From Eastern Europe many came to Western Europe, they also left many family members behind. The connections are indeed there. It gives the prehistory of Western Europe over a longer period of time. My genome only serves as a source.
*
GEDMATCH
This is a group of geneticists who carry out the autosomatic tests for the large companies. They searched for origins from thousands of years ago with the original inhabitants of Eurasia.
The oldest are the Altaic natives who stayed here on the tundra during the ice ages. After the ice ages around 10,000 years ago the hunter-gathererers who repopulated the European mainland from their refugia on the Mediterranean. The Neolithic farmers came from Anatolia 7,000 thousand years ago, and the Corded ware people Iron Age people arrived from the Caucasus 5000 years ago. The Huns also have some left traces.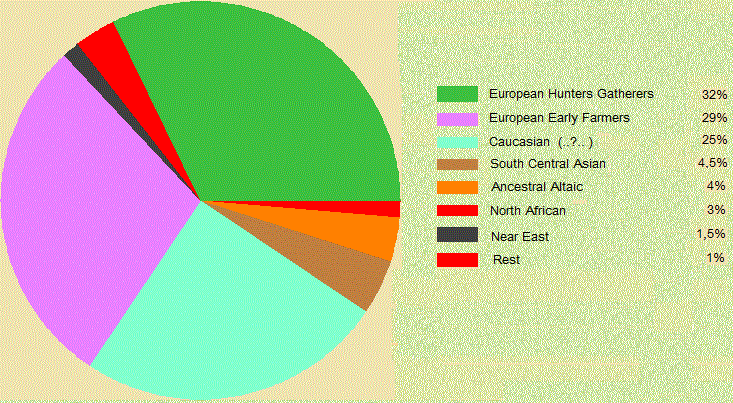 *
Gedmatch compared our family DNA with archaeological remains of hunter-gatherers and the first European Neolithic farmers. Below is a figure with the results in order of the established relationship with whom we share at least one CentiMorgan, a measure of kinship. (6)
In archaeogenetics, 1 cM is the lower limit for kinship. The higher this number is, the greater the kinship, so with more and thicker lines.
In the table below we are the most related to two Neolithic persons who lived 7200 and 3200 years ago in what is now Hungary. They are closely followed by a 7000-year-old discovery from Stuttgart, then a Luxemburger from 8000 years ago. Then a 45,000 year old find from Siberia and a North American Indian from 12,000 years back. His ancestors must not have crossed the Beringbridge not long before that time.
Striking is the large genetic distance to English, Scandinavians and Spaniards Here we seem to have hardly any common ancestors. The least we are related to a Brit - at the very bottom - with whom we share segments of 1 or 2 cM in five places.