*
MtDNA Haplogroups
The spread of mtDNA haplogroups from Africa (Jean Manco)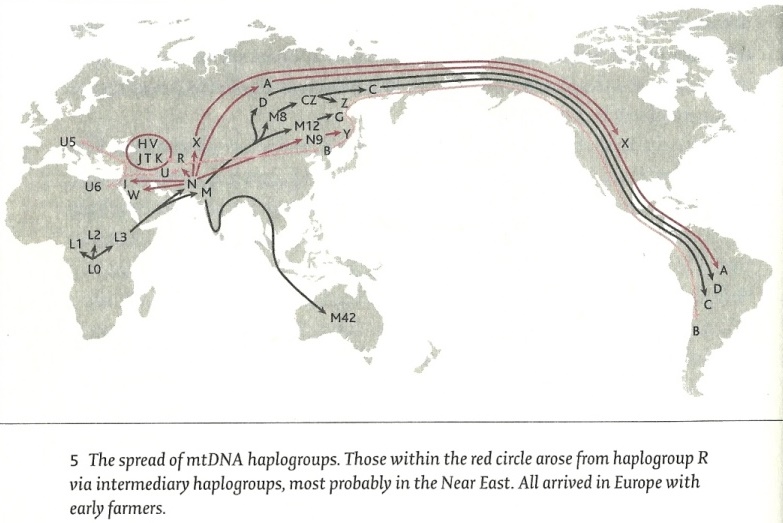 As a result of the sequencing of the complete Y-chromosomes of 69 males from nine populations and applying equivalent methodologies to the Y-chromosome and the mitochondrial genome the time to the most common Ancestor of the mitochondrial genome mt-TMRCA is estimated to be at 99.000 to 148.000 years. (26)
Mt-Haplogroup L0 is the clade of the woman who lived about 125.000 years ago in south or east Africa. All mitochondrial DNA lineages of humankind today are her descendants.
L0d is represented by click speaking forager peoples of Southern Africa, defined as Khoesan, living at the semi-desert regions of Namibia and Botswana.
L0d2c is found in an 2,330 year old male skeleton of a pre-pastoral Southern African marine forager. This clade only survived in sisterclades.
L1 is the first subgroup, spread throughout the whole of Africa.
L2 and L3 appeared about 70.000 years ago. After a gradual and sustained population decline, a rapid population growth occurred in which L2 and L3 took the place of the L0 and L1 women. These latter have remained only among the Khoisan (Bushmen) and Bayaka (Western Pygmies).
L3 arose in North East Africa. From this sprang the mt-Haplogroups M and N which have spread throughout Eurasia.
The women in the groups that arrived in Eurasia sixty thousand years ago had the haplogroups M and N.
Mt-Haplogroup M arose about 60 to 80,000 years ago, probably in East Africa, but possibly also in Arabia and spread together with N over Eurasia. In Europe, M disappeared during the last glacial maximum and was replaced by subclades of N.
From M arose the subgroups C, Z, D, E, G and Q.
Mt-Haplogroup N arose also about 70,000 years ago likely in Arabia Africa and is the mother mtDNA haplogroup from which all present-day Europeans come. This group emerged in Africa and is still found in extremely low concentrations throughout the whole of Europe and Asia. Subgroups arose during the last Ice Age when they there were still hunter-gatherers.
N1a In the early European Neolithic farmers, 5800 BC, in the Carpathic Plain the most common HG among 12 others.
N1a1 is the foundergroup of mt-Haplogroup I.
N1b2was probably assimilated into the ancestors of the Ashkenazi in the north Mediterranean area.
N9a is found in east, southeast, and central Asia, and in two ancient Sarmatian burial sites.
From N arose the subgroups O, A, S, R, I, W, X, Y, B, F, J, P, U, H, V, J, T and K.
*
Mt-Haplogroup C probably spread beyond its Ice Age refuge ‑ the area of Lake Baikal, the Yenisei River valley, and the Altai and Sayan mountains ‑ during the Mesolithic period. This haplogroup was among those carried by the potters of Lake Baikal about 7500 years ago.
C4a2 is found today in 40% of the Tubalars, an ethnic group in the Altai Republic in Russia. (29)
Mt-Haplogroup pre-HV, the precursor of the groups H and V has been extracted from a Cro-Magnon who lived 28.000 years ago in South-Italia.
Mt-Haplogroup H arose 35.000 years ago in central Asia and, with a 40% rate of occurrence, is the major mt-haplogroup in Europe today. It is noteworthy that the rate of occurrence in archaeological European DNA from 7,500 years ago is only half and, in Mesolithic material, hardly any at all. (27)
The current diversity appears to have originated during the mid-Neolithic, about 6.000 years ago, with later contributions from Iberia about 5.000 years ago.
H1 is highest among the Norwegians at 30% , with descending rates from there.
H2 is found in low concentrations on Sardinia and also in the Caucasus. It seems to accompany Y-DNA: G2a.
H3 is found at a rate of 10-12% in Portugal, northern Spain, and Sardinia, and at a rate of 6% in Ireland, Norway and Hungary.
H5 and H7 are found in the Caucasus and in low concentrations along the Mediterranean, in Anatolia along the Danube as far as the Alps. It possibly accompanies Neolithic Y-DNA: E1b1b, R1b1b2, J2 and T,
H13 has the same distribution as H2.
Mt-Haplogroup I arose about 20.000 years ago in the Near East or the Caucasus and dispersed in waves. One wave went to northern Europe, primarily Norway and Finland; another wave went to Pakistan and northwestern India. It is still present in the Ukraine around the Caspian Sea, and in Anatolia and Greece. It seems to be connected with Proto-Indo-European culture, consequently accompanying Y-DNA R in particular R1a. but nothing is certain. Some think it may have been one of the foundation Mt-haplogroups of Europe which was later driven north and to other remote places. To date, Haplogroup I has not been found in samples taken from ancient European Paleolithic, Neolithic, and Mesolithic grave sites, however it has been noted with significant frequency in more recent historic grave sites in Scandinavia. Its later dispersion would then be associated with the Vikings. The Croatian island of Krk is a "hotspot".
Mt-Haplogroup J is also an old haplogroup which arose 45.000 years ago in central Asia. It is thought to have come to Europe with Neolithic agriculture. Today it is commonly found in central Asia and north of the Caucasus. It seems to have some connection with Indo-European culture and the Y-DNA haplogroup R1b.
J1 is common in the Middle East, central Asia, the Ukraine, and in the German-speaking countries of Europe, and is affiliated with the Y-DNA haplogroup I1.
J1a arose 27.000 years ago in Asia Minor.
J2 is small and seen in Southeast Europe and Anatolia.
Mt-Haplogroup K arose out of U8, and is found throughout the whole of Europe and western Asia to India. The highest concentrations are in northeast and central Europe, Anatolia and southern Saudi Arabia. It is thought to have emerged about 16.000 years ago in Egypt or Anatolia. Despite its relatively young age, it has the most subgroups.
K1a is the largest clade. The fact that it is so common in Asia Minor suggests that it was still there before the Neolithic expansion into Europe. It was not found in Europe before the Neolithic entry, but afterwards suddenly reached 17%. Among present-day Europeans, this percentage has dropped and is about the same as in the present-day Levant.
K1a1b1a is found predominantly in Ashkenazic European Jews.
K1a4 is found in Europe and Anatolia, having spread in Europe together with mt-Haplogroups J and T and Y-DNA haplogroups E1b1b, J2 and T.
K1a9 is found predominantly in Ashkenazic European Jews.
K1a10 is European.
K1a12a archaeologic finds in west Anatolia. Nowadays in Armenia, Iran, Quwayt, Italia and in Druses.
K1b is European.
K1c is European.
K2 is European.
K2a2a1 is found predominantly in Ashkenazic European Jews.
Mt-Haplogroup R arose from N and from these arose after the late glacial Maximum in Europe 6 mt-Haplogroups: pre-HV, T, U and K and the eastern subgroups R1 through R31 in Asia, Australia and the Americas.
Mt-Haplogroup T originated about 15.000 years ago in Mesopotamia or northeastern Africa. Today it is found in northern Europe, northern Africa, Central Asia, and Siberia, with foci in India and northwestern China.
T1 originated in the Fertile Crescent and/or the South Caucasus. It is strongly associated with the expansion of agriculture during the Neolithic period, and to a lesser extent also with the spread of the Indo-Europeans during the Bronze Age. .
T2 has been found in all major Neolithic cultures in Europe (Starcevo, LBK, Cucuteni-Trypillian, Cardium Pottery, Atlantic Megalithic...), but like haplogroup J it could have been present in Southeast Europe since the Mesolithic
T2b is found in three archelogical samples from Barcin (Poland), a female, a G-L91 and a H2-M282. in an G-PF3170 individual from c. 7200 ybp from Halberstad (Germ), and in the G-L91* Bronze Age individual from Szöreg (Hungary), c. 3800 ybp.
Mt-Haplogroup U arose about 60.000 years ago from a woman in the mtDNA Haplogroup R branch. This has beenthe only ancient DNA found in Europe dating from 30.000 to 5600 years ago. About 5000 years ago it was abruptly replaced by a very rich mtDNA diversity of the neolithic farmers. (28)
U* is the oldest, found in someone who had lived about 15,500 years ago at Hohle Fels, a cave in Baden-Würtenberg, Germany.
U1 is found in the Middle East.
U2 is obviously old European, exemplified by a 37,000 years old skeleton fond in Kostenki in Russia and an another 30.000-year-old found along the Don in Russia.
U3 and U4 is found around the Black Sea, mostly on the northeast side, in Central Asia around Tajikistan, and in eastern Europe.
U4 is found in late hunter-gatherers in Germany.
U5 arose round 40.000 years ago and is also a dominant clade of thePalaeolithic hunter-gatherers in Europe.
U5a in a 9000-year-old skeleton found in a cavern at Cheddar Gorge in Somerset Today it is found only in the far north among the Lapps, where it still has a 30% - 50% rate of occurrence.
U5a1 is dominant among the late hunter-gatherers in Germany, Lithuania, Poland, Sweden and Russia. In Siberia it was found as early as 4.000 years ago in burial sites where it was mixed with east Asian mtDNA C.
U5b1 in Iberia.
U5b1b arose 6,500 years ago and is compassing 48% of the Saami (Northeast Scandinavia), Yakut (Northeast Siberia), Berbers, (Algeria) and Fulbe (Senegal). It is striking that its populations live 9.000 miles apart. They belong to original hunter-gathering population of Europe and will be expelled to and over the edges of the continent by the successive waves of Neolithic newcomers.
U5b2a5 The clade of the mesolithic skeletons, from Croatia and Korčula, 6000 BC.
U5b2c1 has been found in ancient mtDNA from a mountain cave site in La Braña-Arintero in northern Spain, dating from 7.000 years ago.
U5b3 seems to have spread along the Mediterranean coast from a refuge on the Italian peninsula.
U6 in archelogic remains of an individual, PM1, in Romania (Europe) is found U6*, cal 35ky BP. U6 is now found in Europe, Central Asia. and derived U6 haplotypes are now predominantly found in present-day North-Western Africa. European colonization brought different U6 lineages throughout the American continent leaving the specific sign of the colonizers origin.
U7 probably originated in Asia about 18.000 years ago. This haplogroup is found mainly in western and southern Asia. It is rare in Europe, but has been found among Sarmatians on the Russian Steppe dating back to 500 BCE. Low levels are found in parts of Sweden today. Two women who must have been of high status were buried with grandeur in the Oseberg Ship, discovered in a Viking burial mound in Norway. The elder may have been queen Åsa, the grandmother of king Harald Fairhair. The youger carried mtDNA U7.
U8 a European clade from which mt-Haplogroup K originates.
U9 is found in Ethiopia, the Arabic peninsula, and Pakistan.
Mt-Haplogroup V presumably arose on the Iberian peninsula 15.000 years ago, during the last glacial period, among the hunter-gatherers who had withdrawn there with H1, H3 and U5 men. When the climate improved, they repopulated Europe. Today they constitute a large group, with the highest concentrations being found in northern Scandinavia among the Lapps (40%), and rates descending as one moves south, with the Netherlands at 8%.
Mt-Haplogroup W arose 18.000 years ago, with a spread similar to that of mt-Haplogroup I. Today it is found in the Ukraine, European Russia, the Baltic states and Finland, where it occurs in 3% to 5% of the population. In North Pakistan its rate of occurrence is 15%, and in North India, 10%, mostly among the higher castes and Indo-European speakers, and often paired with Y-DNA R1a and R1b.
Mt-Haplogroup X is more than 30.000 years old and is found in low concentrations in every population in Europe and northern Africa, and among the American Indians. The rates of occurrence are usually 1% to 2 % and rarely above 5%.
X1 is found only in northern Africa.
X2b is only found among American Indians. The Ojibwa, the third largest Indian nation in Amerika, living at the borders of the US and Canada in the general area of the great lakes. have an rate of 25%, the other indians have about 4%. (31)
X2a, X2c, X2d and X2e are found in Europe, West Siberia and Central Asia.
X2 has high concentrations around the Caucasus, descending to Central Asia and the Mediterranean.